Ice and Snow Sculpture festival in Harbin
Winter time in the north calls for some winter activities and adventures, we had a chinese visa that was ending in June, it was a 2 year visa we had got for our Trans-Siberian Train Trip and we decided to make use of it. Harbin Ice festival was on our radar for some time and this was the perfect time to make it happen.
So you buy a flight ticket, after a long 10+ hour inside the metal tube, you land into a fridge freezer, famed as the Ice city, Harbin is one of China's coldest cities in winter. If you want to spend a week in Harbin, here is a map of the locations of interest to visit and photograph.

Harbin City
We land late evening in the Harbin airport after a tiring long flight from London to Beijing and then a domestic flight from Beijing to Harbin.
Plan for a minimum of 2.5 to 3 hour between flights, we were really lucky that we did it as we had to go through immigration, and then take an internal airport train transfer to the domestic terminal and go through all the security checks again, both our flights were on Air China, so we did not have to take the bags out, Phew!
Found our driver and we head to our Airbnb home for the next few days, first glimpses of the city was icy and colourful, we saw ice sculptures at every cornes gloriously lit by colourful lighting.
After a wonderful night's sleep, we explore the streets of Harbin and the frozen river that has now become a playground for winter sporting activities.

China's Snow Town
— Yabuli Ski Resort, Xue Xiang National forest, Dongsheng Forest Farm, Snow Town —
Located 280 Km from Harbin, this tiny village named Zhong Guo Xue Xiang, or "home of snow", at an elevation of 1500 meters sees fresh snow almost everyday during the winter months, lined with wooden houses and snow lined streets is a good place for photography if you can manage the freezing fingers.
We drove for approx 6 hours, visited a few farms enroute, also visited the Yabuli ski resort, one of the biggest and best in China and by early evening reached the snowtown, checked into our room, it was one of the traditional rooms that has a Kangtou bed, its traditional brick bed heated by wood underneath, common in Northern China, but our was electric instead of wood, but the warm bed felt amazingly cozy.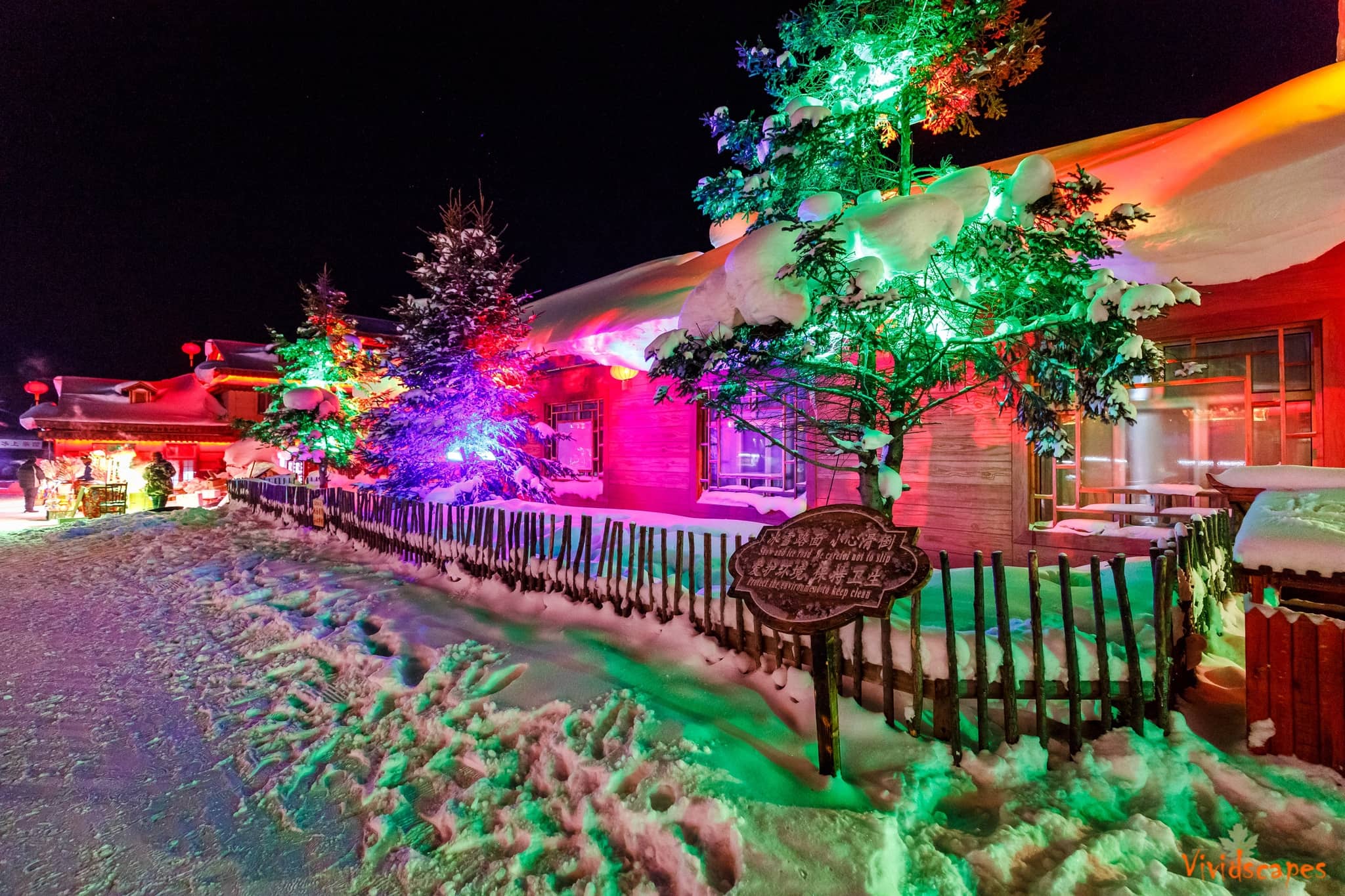 Siberian Tiger Reserve
From Poachers to Rangers: The Siberian tiger reserve in Harbin was setup to save the endangered Siberian Tiger, only a few hundreds remain in the wild, this park trains them for the wild and lets them out into the Siberian forests once they are ready, or so we thought, the truth might be very different which we are not sure off, but surely we did not get very positive vibes from what we saw there.
The park has a system of feeding live chickens and animals to the Tigers, you can pay to get them fed, we did not like looking at the helpless birds being torn by the beasts, in the wild its different as they hunt, at least we did not witness any gory scenes of goats or cows being fed, its too much of a tourist entertainment that could be avoided.
The Siberian Tigers looked very healthy and they roam freely in the woods, quite a few controversies surround the park, but we felt they are fed a bit too much in our opinion, we don't visit zoos as the caged animals are not our way of looking at animals, we went with a bit of skepticism. It was great to see these wonderful cats and cute little cubs pretty close but would we do it again ? a big NO.
If you still need a bit more reading to make up your mind if you really want to visit the park, then hit up this link from NOMADasaurus's write up about their visit to the park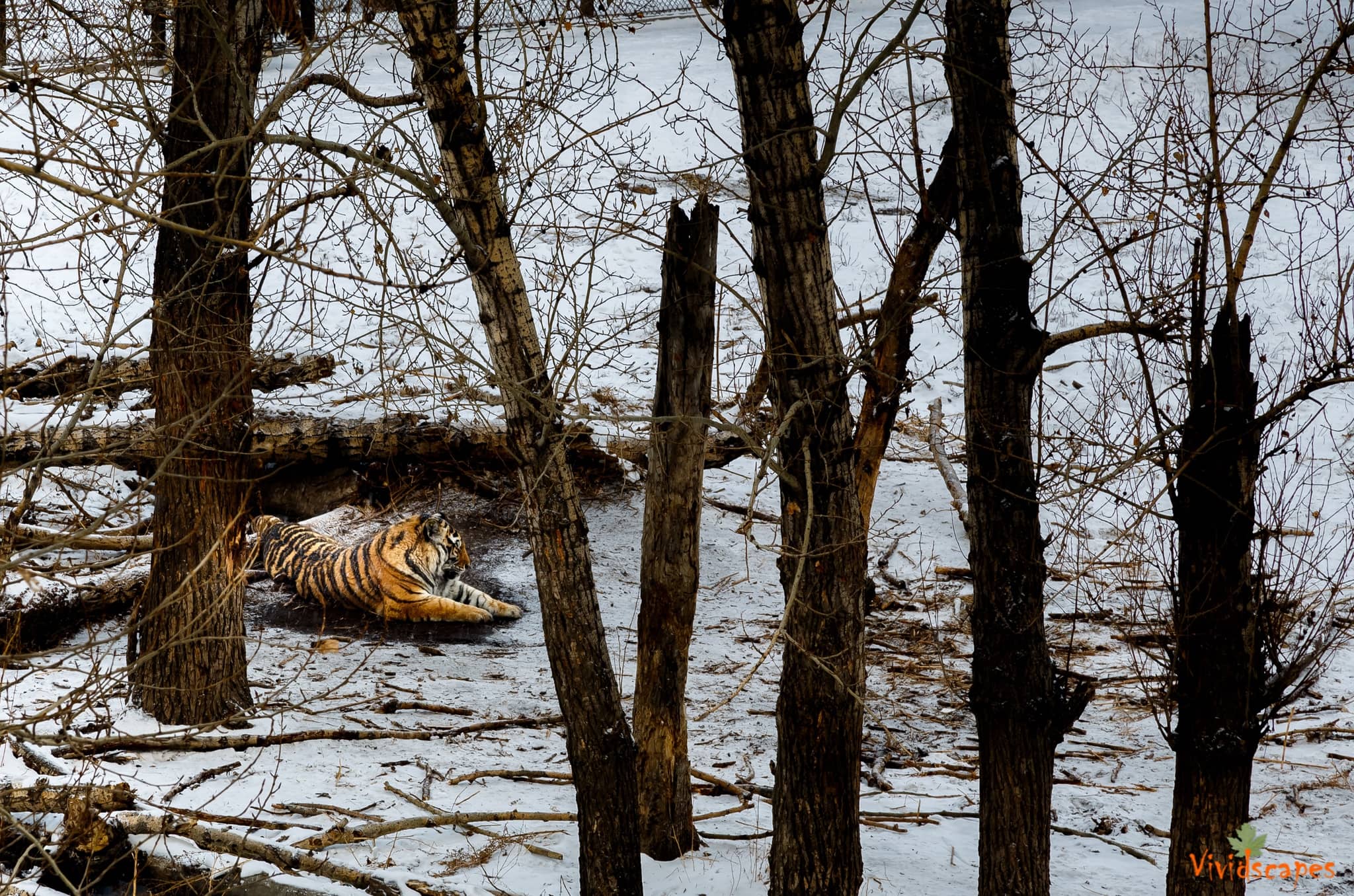 Ice and Snow World
After a long and cold day visiting the tiger park and surrounding areas, we head to the sun island park which becomes a Snow Expo, artists from around the world come here to create amazing snow art for the yearly international Snow art competition.


The ice sculptures include recreations of historic landmarks, castles and famous figures, including Moscow's Red Square, Beijing's Temple of Heaven, temperature being around -20, they stay intact, we even walked inside a few of the sculptures on steps made of Ice.
At night colourful LED lights light-up the sculptures and makes it a spectacular view, layer up a lot on the dressing as you are surrounded by Ice and makes you feel a lot more colder.
The ice cold hands and frozen feet did not matter looking at all the magnificent artwork!
If you don't mind the freezing weather, a week in Harbin is worth the time to enjoy winter activities and to photograph the beautiful ice and snow artwork made by thousands of artists from around the world.

Trip Notes: Tours from Ice Festival Harbin

 Canon 5D Mark III + MeFoto Roadtrip + Canon 16-35 F4 + Canon 24-104 F4 + f-stop Loka