The idea and motivation to visit this place came up when Suni was watching some Bollywood movie songs shot at this place, at first glance we thought this was snow and on closer inspection it did not look like snow and as an inquisitive minded guy, I started searching for this place and found out that this was indeed not ice and its calcium formations in a place near Denizli in Turkey.
As Turkey was in our to go list, the interest grew and the plans began, luckily to speed up the process, there came an offer for flight tickets in one of the travel sites and there it was, we had already decided that the nearest place would be Dalaman, which is a 3.5 hour(215 Kms) drive from Dalaman airport, the next nearest would be Antalya.
Before i could catch another breath, i had already booked the flights, all happened at lightening speed and the dates were all set.
So we flew to Dalaman, reached there in the night, hired a car, we chose to spend the night in Dalaman as it would be too late to drive, after some stunts at my first experience at driving on the right hand side and going diagonally opposite on the first roundabout, I got a hold on driving on the right, then came the next struggle of finding the way to our hotel, we were just roaming around in circles in small lanes where our trusty Renault Clio can exactly fit, no room for error here :), after some roaming around and with some locals help and instructions, we managed to reach the hotel.
The next morning we set sail for the wonderful Pamukkale (37.92253, 29.12400)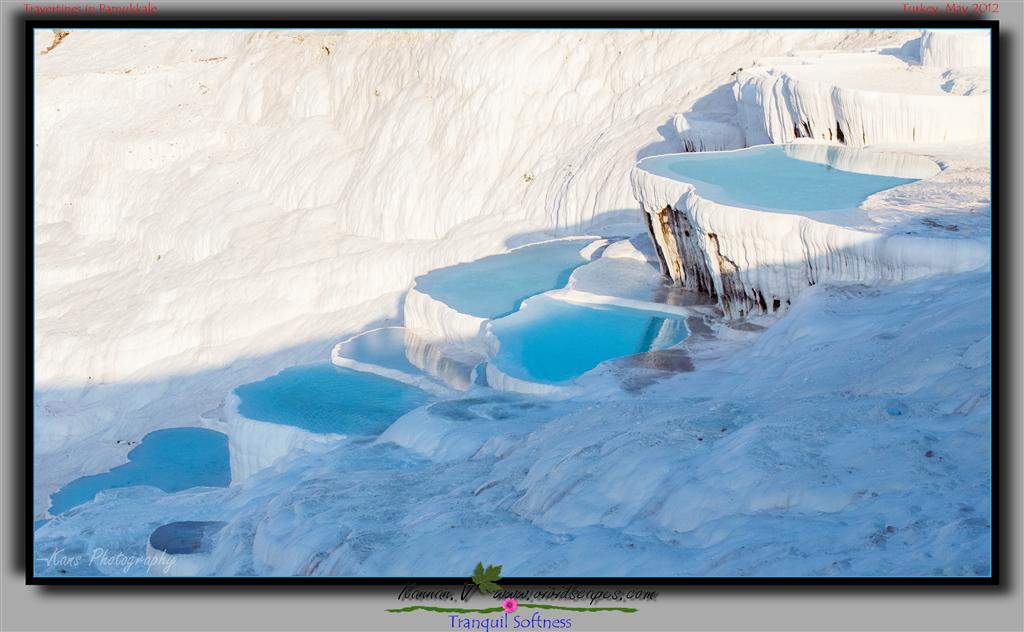 the drive itself was amazing taking us through winding mountains roads,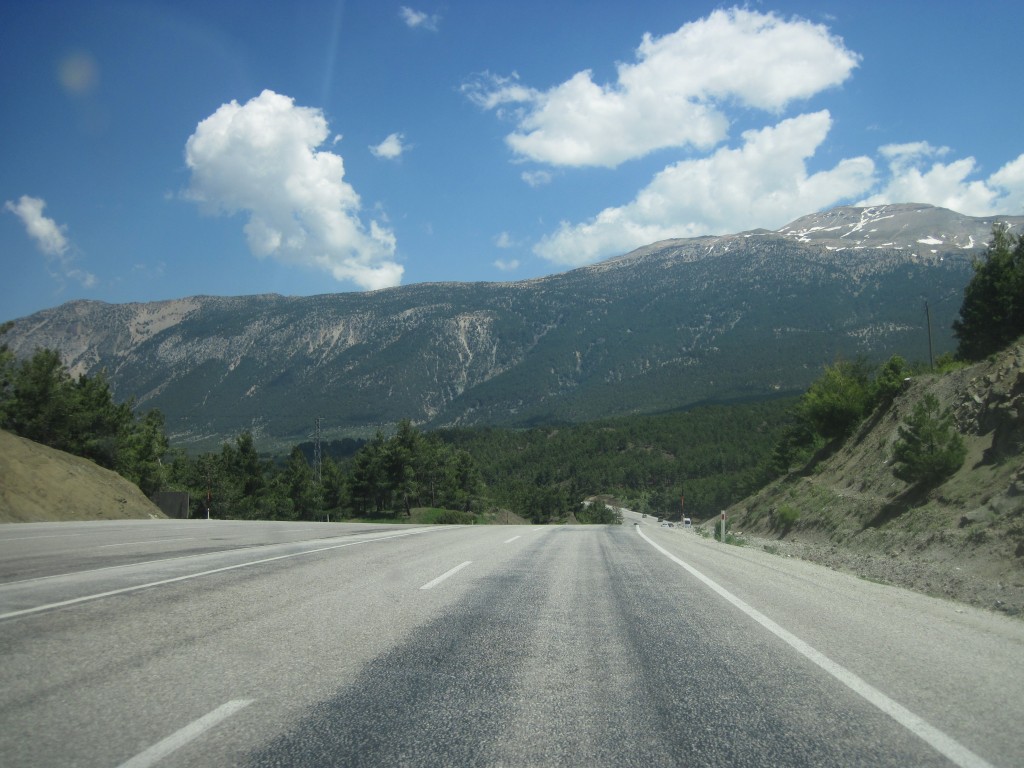 it was such a beautiful and scenic drive that we chose to stop at lots of spots on the way.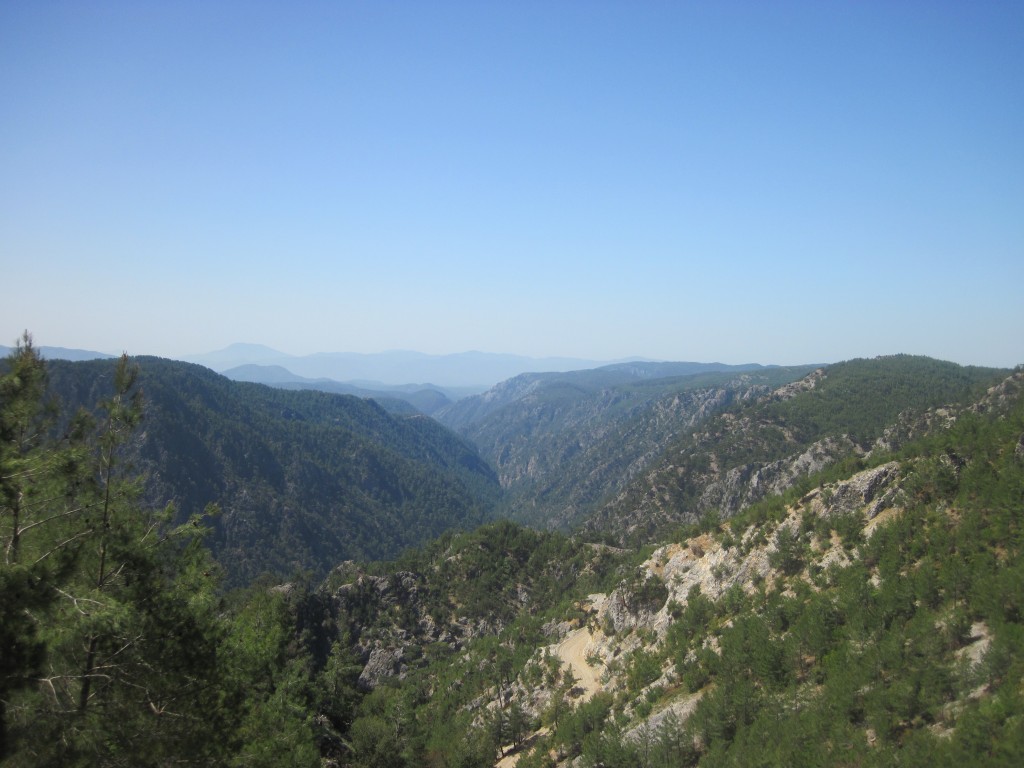 Pamukkale (pah-MOOK-kah-leh, "Cotton Fortress") has been a spa since the Romans built the spa city of Hierapolis around a sacred warm-water spring and is now an unusual natural and historical site, it resembles a white mountain, it's not ice or salt, the dazzling white calcareous castles are formed by rich limestone-laden thermal springs, creating these fantastic formations of stalactites, potholes and cataracts.
"Pamukkale" means "cotton castle" which tunes to the glorious and spectacular view of the site.
Waters in the terraces are the sediments of the springs with calcium bicarbonate in 33C. Waters, containing mainly calcium salts and carbon-dioxide, run off the plateau's, as they cool they form dramatic travertines of hard, by depositing brilliantly white calcium that form pools while carbon-dioxide disappearing. The marvelous landscape of Pamukkale has been created by this gradual formation, leaving a cotton-like image. Located above the theater of Hierapolis, the mineral water sources from the thermal springs of Cal Mountain.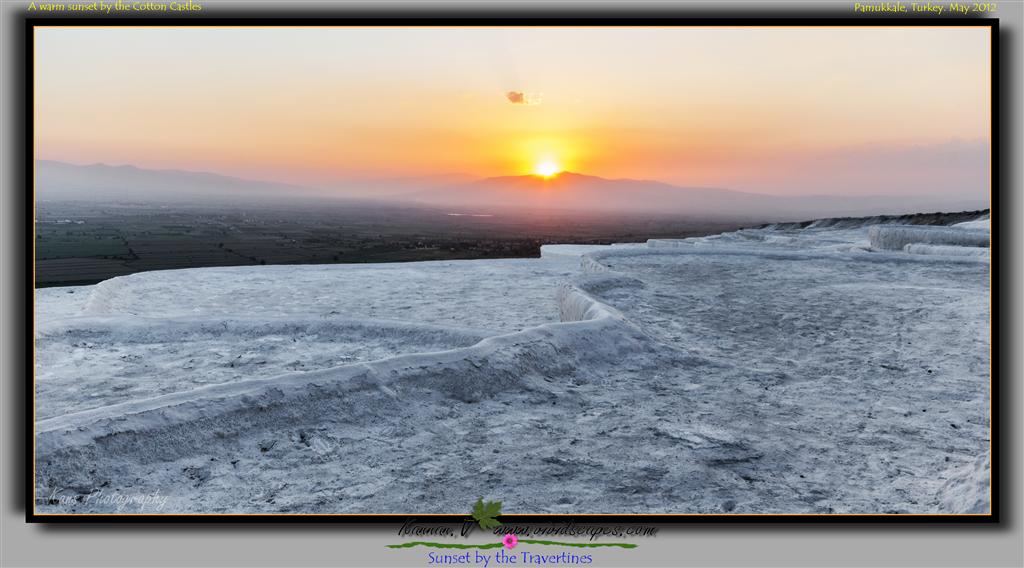 More info about the place on WikiTravel – http://wikitravel.org/en/Pamukkale#b
We stayed at a family run hotel Melrose house hotel (http://www.melrosehousehotel.com/), neat and comfy rooms, fantastic location to Pamukkale, it's just a 10 minute walk to the entrance to the Travertines and a very warm hospitality from the family, it felt as if it was our second home.
and many more choice to feast on….
and to finish off with a nice Baklava with Ice cream
The food was as delicious as it can be, its home cooked food and can't be faulted.