Highlights of Turkmenistan
Turkmenistan, once was a major country on the silk route with so much business and wealth exchanged with the transport of silk and spices along the two main routes that encircled the country.
The country does not appear in any of the major must go lists nor did we see a major push for tourism in the country, but there is quite a lot to see and experience in this beautiful central asian country, we chose to fly direct from London via Turkmenistan airlines, landed on falcon, yes the capital city's international airport is designed like a Falcon, it was newly built for the 2017 central Asian games that Ashgabat was a host.
Here is our usual map of all the interesting sites that you can plan during your stay, the white marble glazed capital city to martian like landscapes of Yangi kala canyons, take a dip at the natural underground hot water lake at Kow Ata, the famous ever burning gas crater in Darvaza, you will have enough to fill a week.
If you want to know how best to travel around, read more on this post here.
Ashgabat
We landed at midnight, the vast new airport was desolate with us and a very few other locals, the rest of the plane was on a connecting flight, and it looked like everyone in the airport were just waiting for someone to arrive, it was good as there were no queues for immigration or baggage collection, its luxury.
We were met by Ata, our guide and driver for the next 7 days, he welcomed us with a smile, the air was cool, Ata guided us to the huge Toyota Endeavour, it had enough space for 2 elephants, we started rolling out of the parking and the city amazed us, impeccably clean and most of the buildings and houses were cladded in white Italian marble, water features everywhere and were taken by surprise at our first glimpse of the city.
We avoid looking at photos before we arrive at a place as we feel that would take away from the surprise of the place and we wanted to experience it first hand without any pre-judgements or expectations.
Bathed in white marble and clean and wide streets are a common scene in this beautiful city, water features at every corner and artistic monuments and sculptures, spacious parks can keep you occupied for a few days. War memorial complex, arch of neutrality, Wedding palace, the museum, independence complex, the largest mosque in central asia and many more interesting place to visit in the city.
Vividscapes Top Tip: As beautiful the city is by day, plan a night trip when the monuments are gorgeously lit by colourful lights.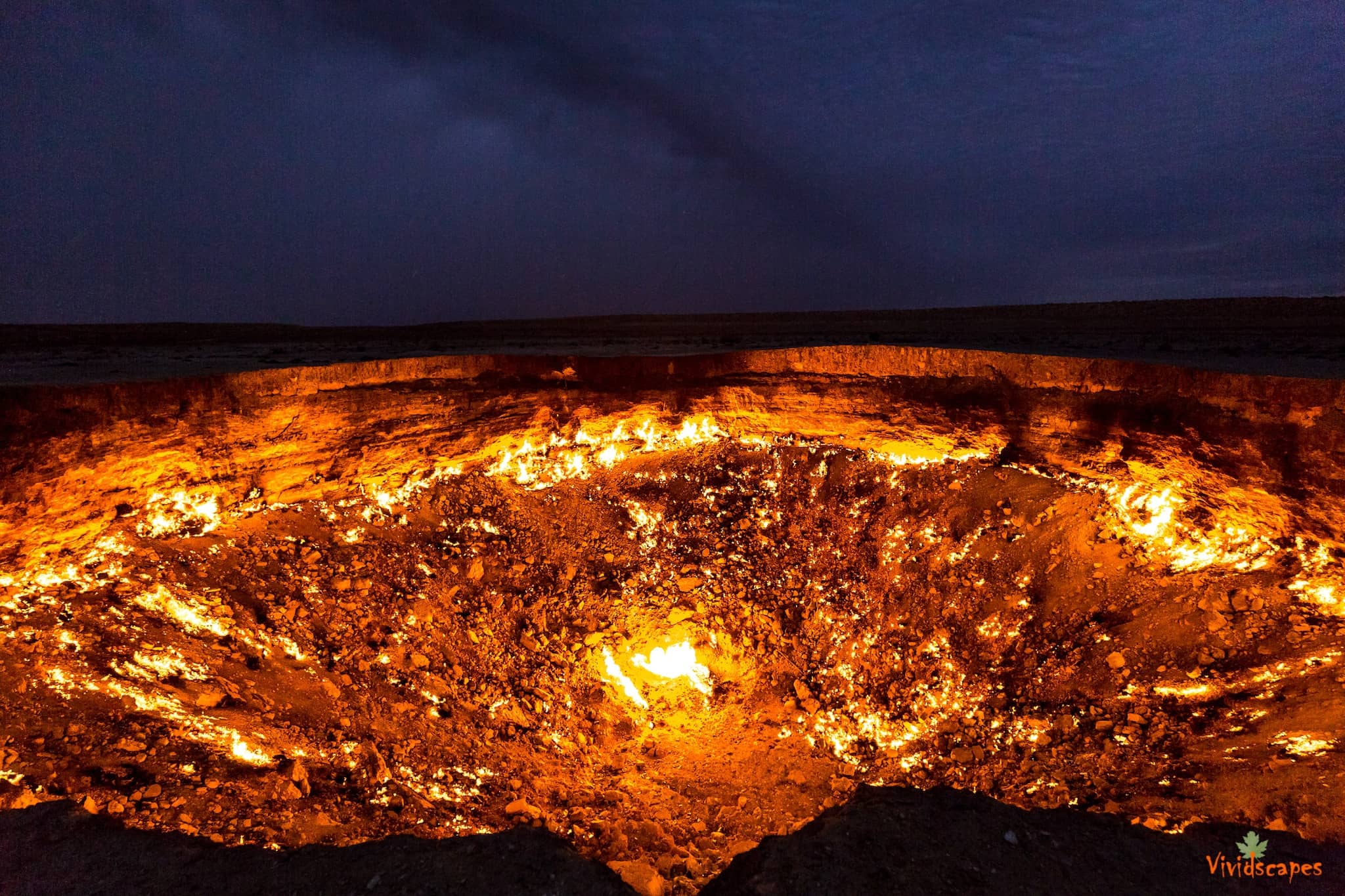 Darvaza Desert (Door to Hell)
The next day we drove into the Karakum desert towards the village of Darwaza where once stood an ancient settlement that have now moved out due to the harsh desert conditions, its 265 kms from Ashgabat and takes 3 to 4 hours.
When the Russians came mining for gas, the whole platform crumbled due to the loose desert sand and the natural gas started escaping into the atmosphere, to avoid another environmental disaster, they lit it to burn the gas away, little did they know at that time that they were meddling with the 6th largest gas reserve on the planet, it's been burning since 1973 (44 years to 2017), and still burning fiercely and showed no sign of dying down
Darvaza To Nokhur
After a warm and interesting night at the Desert, we proceed towards the village of Nokhur via Ashgabat, a 400km drive takes 5 hours, along the route we stopped at a stud farm for a show of Akaltiki horses.
Later on we continued west, to the underground Kov-Ata cave, accommodating a unique hot-water (+ 35-37C all year round) sulphur lake for a swim, dont be put off by the water that might look cloudy/dirty, get in and you can see it clear and warm, if you have ever been to any of the natural pools in Iceland, the smell should bring back memories from the place.
We then drove up the Kopetdag mountains to the charming old village of Nokhur for a home stay for the night where we enjoyed home made dinner made from local produce.
They are thought to fight off evil spirits, and help the soul of the deceased to ensure a safe passage to heaven. Aside from their appearances at the village cemetery, skulls of mountain goats are found at some of the houses' doorways of the village as well.
The Nokhuris, the mountain tribe of the region, have always considered mountain goats sacred animals, admiring their strength and endurance. The reverence of mountain goats clearly predate Islamic traditions, and although today the Nokhuris are devout Muslims, parts of the ancient belief system has continued to survive.

Yangykala Canyons
After an overnight in the city of Balkanabat, we proceed to the colourful canyons of Yangykala, it's a gruelling 2 hour drive over cheese grater like desert roads, shaking joints and aching back we arrive at the top of the canyon…. along the route we pass numerous interesting shapes and formations.
Yangykala Canyon is breathtaking and undoubtedly the most spectacular natural attraction in Turkmenistan we have seen. can it be called 'the Grand Canyon of central Asia'.
Yangykala canyon is not a canyon shaped by a river like most other canyons. This area is first shaped by the sea millions of years ago. After the sea disappeared, rain and wind have made this unique landscape.
With bands of pink, red and yellow rock searing across the sides of steep canyon walls, it extends as far as the eyes can see and not a single soul in sight except us.
A final day visit to the caspian sea and made our way back on a long drive to Ashgabat.

Vegetarian Food
One place that our favourite happycow app did not recognise was Turkmenistan, being a strict and closed country, social media and mail are quite restricted and so happycow too did not work there, but finding vegetarian food outside of the capital was very restricted, we managed with a lentil soup, boiled rice and bread for most of the days.
Our tour guide had to specially request and suggest a suitable menu at the homestay family we stayed overnight in Nokhur.

Trip Notes
Turkmenistan is easily accessible by air from London, direct flights once a week
Currency is Manat and cannot be exchanged outside the country, cash can be withdrawn in country, major services accept US dollars.
Best time to visit is between March to May and September to November when the day time temperatures are mild and pleasant.
We customised the tour to our liking and booked them through the friendly and local travel agency – Ayan-Travel
Comfortable shoes recommended for hiking and for desert walking.
Light clothes for the day, desert nights can be very chilly, so a good jacket and a few clothes to layer.
2 weeks would be ideal if you want to visit all the interesting places along the silk route.
Visa process can take upto a month, so plan in advance, travel agency will help with all the required documents.