A Guide To Hiking Kjerag – a Photo Essay
Kjeragbolten hike is one of the most exciting and spectacular hikes we have done till now, we did the beautiful Machu Picchu trek and that was challenging in a different way, the nearby Preikestolen Hike is not this strenuous and we both agreed that Kjerag was more like rock climbing with steeper and slippery trail most of the way.

Trek Log Of Our Route

Where Is Kjeragbolten
Kjeragbolten is in southern Norway, the nearest town being Lysebotn accessible via ferry from Stavanger of by road, it takes around 2.5 to 3 hours by car via Rv45, lot of them do the hike from Stavanger, there is also a bus that you can take from Stavanger to this place but be wary of the timings so that you can get back before the last bus.

Kjeragbolten Hike Facts
The total hike takes 2.5 to 3 hours to reach the top and an hour or 2 for some rest and for photos and 2.5 to hike down, it took 8 hours for us and we spent 2 hours at the top for packed lunch and enjoying the scenery.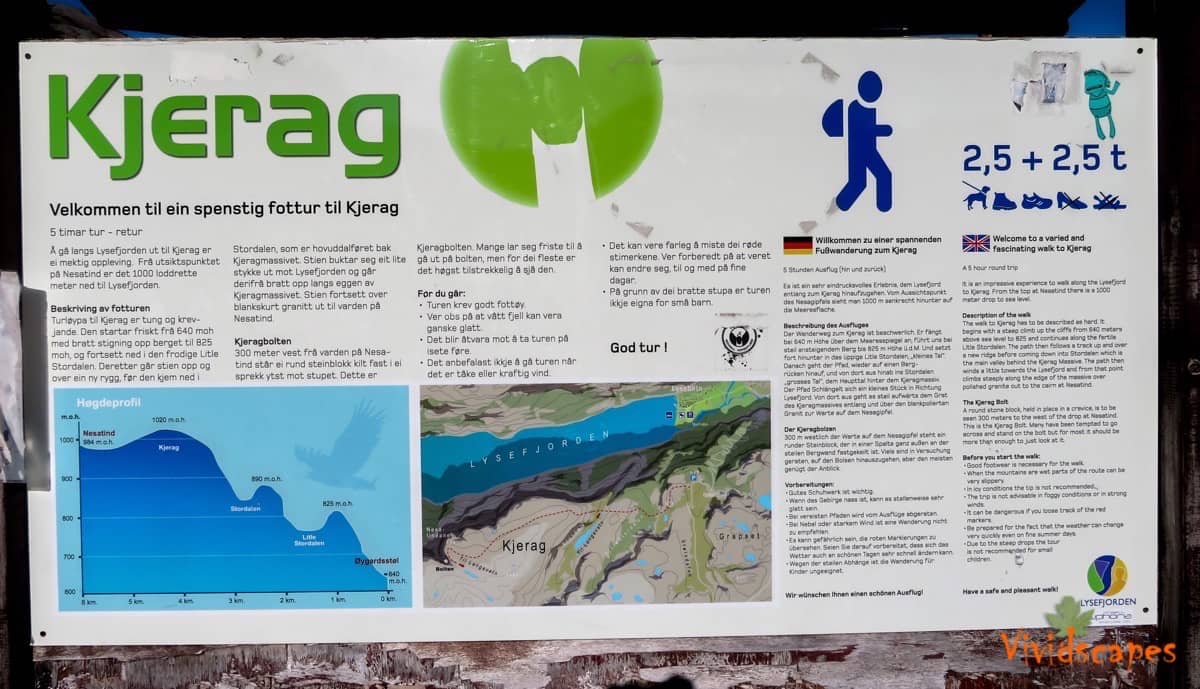 Kjeragbolten Trail In Photos
No amount of words can describe the trail better than pictures, enjoy the terrain and views below.

Best Time To Do The Hike
May to September is usually the best, we landed in Stavanger and it was raining, grey skies and windy invited us in open arms, it was a 3 hour drive to our accommodation and there was no break in the rain, and we thought it was going to be a complete wash out, turned on the Tv and tuned into a random weather channel and to our surprise the next was supposed to be sunny and nice, so it was a lucky day next day and it was indeed a beautiful morning, we started early so we can reach the Kjerag parking before the crowds arrive and its an hours drive along winding mountain roads and beautiful vistas, and the next 2 days was soaking wet rain all day.
So Norwegian weather is rain and more rain and you get a lucky break in the weather a day or two, so its better to plan a few days for the hike so you can find a good sunny day, the roads are closed during winter and its very very risky to even attempt this hike in winter as the trail gets very slippery and covered in ice and snow, also if foggy and visibility is low, it will be quite difficult to follow the trail, so take extreme care when venturing out, the best is to get the advice of the lovely parking assistant for the exact conditions before starting.

Who Can Do This Hike
Anyone with reasonable fitness can do this trek, we saw a few families with young children on the trail.

Where To Stay
The nearest town is Lysebotn which is 15 mins from the parking lot, there are a few bed and breakfast options and cottages available and they get booked early during the peak season.
Stavanger is 3 hours away and has a lot of hotel options to stay and lot of them stay here and do the hike on a day trip either driving here or by using the ferry and public transport.
We stayed in Sirdal ski cottages which is an hours away and a nice little ski town, this was easier for us than Stavanger as we dont have to drive 3 hours after the tough hike

What To Bring
Chocolate bars, food for lunch, good hiking shoes that can have a good grip on wet granite rocks, double layer merino wool socks to prevent blisters, a few t shirt layers depending on the weather, thin rain jacket or waterproofs, hiking pole are not necessary here, we found it was more of a hinderance in the rocky terrain, water bottle or camelbak, you can fill water in the fresh streams along the way so you can be lighter on the backpack, a good camera to capture beautiful memories and finally an amazing sense of Adventure is all you need.

Nearby Attractions
Its best to do a self drive to enjoy the nearby places, Lysebotn is nice little port town 15 minutes from the Kjerag parking lot, you drive down winding roads and reach the port where you can get nice views of the Lysebotn fjord.
Pulpit rock Hike is also popular with hikers and is more crowded than Kjerag, the hike is also easier and shorter than the Kjerag hike, if you are planning a trip to this area, 3 to 4 days would be an ideal time so you can do the Preikestolen pulpit rock hike and Kjerag.
An hour and forty five minutes is Manafossen waterfalls, a beautiful waterfall and hike through thick and lush greenery and steep rocks, it only takes 30 mins to reach the top, but its worth the trek, the waterfall itself is very impressive with the fall opening out from between the rocks like a spout and falling into the dark gorge below.