Marrakech or Marrakesh, known as the "Ochre City", is the most important former imperial city inMorocco's history. The city of Marrakech is the capital of the mid-southwestern economic region of Marrakech-Tensift-Al Haouz, near the foothills of the snow-capped Atlas Mountains.
Like many Moroccan cities, the city of Marrakech comprises both an old fortified city (the médina) and modern neighborhoods, the most prominent of which is Gueliz. It is served by Ménara International Airport (IATA code: RAK) and a rail link to Casablanca and the north.
Marrakech has the largest traditional market (souk) in Morocco and has one of the busiest squares in Africa and the world, Djemaa el Fna.[2] The square bustles with acrobats, story-tellers, water sellers, dancers and musicians. By night food stalls open in the square turning it into a huge busy open-air restaurant.
A 3 day Trip to Marrakkech :
3 days for Marrakkech is a bit on the short side, 5 days would be ideal to cover Marrakkech, as with any place there are loads of places to visit and things to do and cannot place a time limit. If you plan a travel to the Desert, then  it would need an overnight stay in Tented camps as the travel to the desert would take well over 6 hours. Below is a waypoint map of the places we visited during our 3 day visit.
Day 1 : Landed in Marrakkech Menara (RAK) Airport
After checking in to the Imperial Plaza Hotel and a quick power nap, we had to as it was a Friday and most of the shops are closed on Fridays, freshened up and set sail to the famous and most talked about Souk.
The Souks are traditional style markets in tented roofs that sell everything from dry fruits to Moroccan food to rugs and ornaments.
Marrakkech visit should definitely have a slot of Souk visit, else wouldn't be complete, visit the Souks in the evening.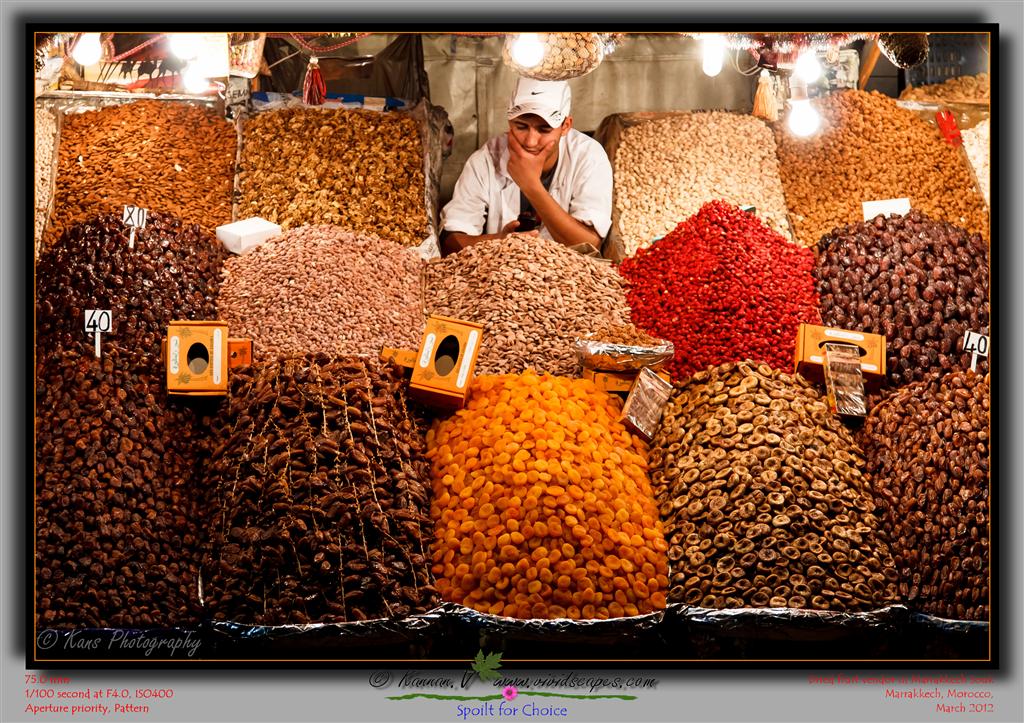 Day 2 : Door of the desert
If you want a view of where many of the major hollywood movies like the Mummy, Gladiator and many other desert scenes are pictured, then you would love this place, Ouarzazate is around 5 hours drive from Marrakkech, it's a long journey, but the winding roads and amazing panoramic views of the atlas are a definite one not to be missed.
Day 3 : Berber Trek to waterfall
Berber trek to Ourika valley in the High Atlas, this is an hours drive from Marrakkech, on the way we visited traditional Berber tribe homes and see their culture and day-to-day living
This is a flour mill, no electricity or gas, completely Eco friendly and is driven by water flowing downstream from the hills channeled to drive the stone.
 from the base of the valley we have to trek for 45 minutes to reach the waterfall, it's a moderate climb through rough slippery terrain and rocky surfaces.
Where and what to Eat :
If you want to eat well in Marrakech, do what the locals do and eat at the food stalls in the square. It is a common misconception that these stalls are here for the tourists. Actually, they have been in existence long before Marrakech became a tourist destination. All of the stalls can be regarded as perfectly safe to eat at. They are strictly licensed and controlled by the government, especially now as it is a popular destination for tourists.
Each night in the Djemaa El-Fna rows of street stalls are set up under giant white tents. These huts serve similar fare and have menus printed in French, Arabic and usually English. Everyone has tajine, couscous, brochette and some variety of soups. Some have specialties like offal, egg sandwiches or special tajines. Be aware that most restaurants use rather insistent "greeters," who are very aggressive in trying to lure customers for their stall. The line 'we already ate' seems to work well to get them to stop.
There are also a few good vegetarian options, not a huge choice which makes the job of decision making pretty simple, go for a veg cous cous or a Tagine.
Marrakech is a generally safe city, with a solid police presence. However, staying alert about your surroundings and taking general safety precautions is always a good idea like everywhere.