Maldives is a Paradise, an exquisite paradise, ever dream of crystal clear waters, perfect blue skies, only seen those in movies, you need to visit Maldives then, this is by far one of the best and exquisite places I have visited, it's a perfect place for that relaxing vacation.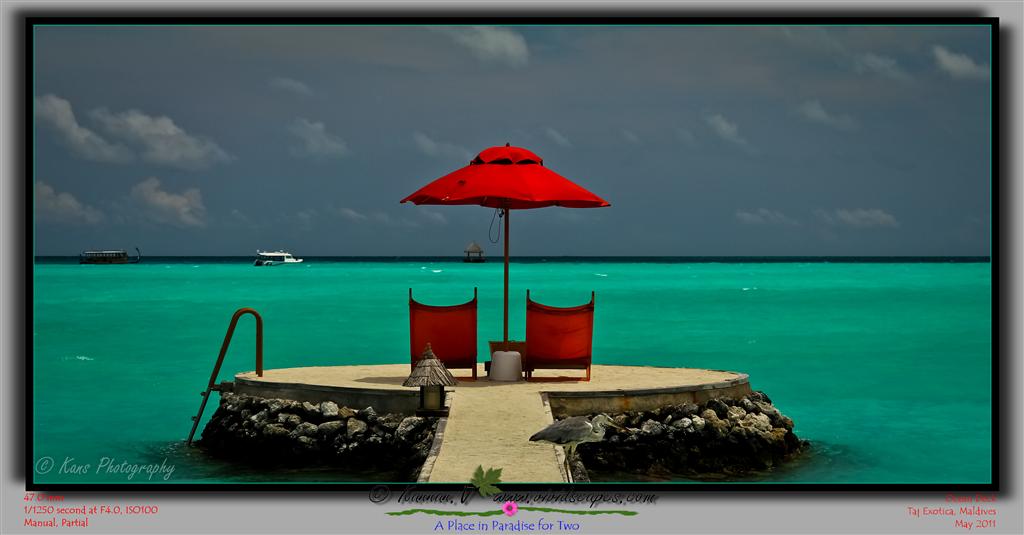 Maldives (/ˈmɒldaɪvz/ or /ˈmɒldiːvz/), (Dhivehi: ދިވެހިރާއްޖެ, Dhivehi Raa'je), officially Republic of Maldives (Dhivehi: ދިވެހިރާއްޖޭގެ ޖުމްހޫރިއްޔާ, Dhivehi Raa'jeyge Jumhooriyya), also referred to as the Maldive Islands, is an island nation in the Indian Ocean formed by a double chain of twenty-six atolls oriented north-south off India's Lakshadweep Islands, between Minicoy Island and Chagos Archipelago. It stands in the Laccadive Sea, about 700 kilometers (430 mi) south-west of Sri Lanka and 400 kilometers (250 mi) south-west of India. During the colonial era, the Dutch referred to the country as "Maldivische Eilanden" in their documentation, while "Maldive Islands" is the anglicised version of the local name used by the British, which later came to be written "Maldives".
We stayed at the Taj Exotica Resort and spa, one of best resorts with world class and award winning cuisines, the Jiva SPA is a class apart in itself, so if you want that much needed relaxation, you wont go wrong with the choice, so better save up to treat yourself, its worth every penny.
As it was a relaxing break, we spent 4 days on the island, with some trips to a local island to see how the local Maldivians live, lots of snorkeling and lazing out on the beaches.